This is part two of our case studies of anti-drone warfare amongst armies and non-state actors.
Saudi Arabia
On September 14, 2019 at 4 am the two oil sites of Abqeiq and Khureis, in the North-East of Saudi Arabia, are hit. 19 drones and cruise missiles hit the oil facilities and remove 5% of production from the world market.

Saudi Arabia's missile defense system failed to stop the swarm of drones and cruise missiles that hit the oil infrastructure. Saudi air defense had deployed at least one MIM-104 Patriot pac II to Abqaiq, plus many other similar systems across the 1,000 km of desert that separated the target from the start of the attack. This air defense system was designed to deal with ballistic missiles and fighters flying at high or medium altitude. A swarm of drones and cruise missiles coming from multiple directions can disrupt and jam the radar, as well as overwhelm air defenses. In addition to the Patriot system, the Saudi military had deployed a Skyguard close protection system, but it was unable to detect and mitigate the drone attack. Worse, the third anti-aircraft defense element deployed in the area, the Shahine, a Saudi adaptation of the French Crotale missile, is also offside.
Another problem is the cost! According to Justin Bronk, a researcher at the Royal United Services Institute in London, "the cost curve is very much in the attacker's favor, which means that Saudi Arabia would have to spend far more than its enemies to protect itself against additional strike capabilities. Thus, there is almost no way for the Kingdom to fully defend itself against such attacks." This same researcher estimated the cost of manufacturing a Yemeni drone at US$25,000, the price of a Patriot Pac II missile is $450,000; that of a Pac III is almost three million dollars. Even for a rich country and moreover the largest importer of weapons in the world this is still a huge cost to incur, especially since by the admission of Turki al Maliki, spokesman for the Saudi Ministry of Defense, there were 240 drones intercepted between 2017 and 2019.
Instead of thinking about a real anti-drone strategy, Saudi Arabia continues to equip itself with the nec-plus-ultra of anti-aircraft defense such as THAAD, in anticipation of a war with Iran and a ballistic attack. The Saudi army has another problem, which is that of its human component, its competence, its degree of preparation and its attention. It is trying to overcome this by increasing the number of exercises with the American army, such as the one that took place in July 2021 in the American base of al Udeid in Qatar.
Few jamming and electronic warfare equipment are used by the Saudis for anti-drone warfare, a lack whose effect is visible on the ground.
The United States
The suicide drone attack against an American base in Iraq on 3 January is a perfect example of the American army's anti-drone doctrine. Quite similar to the Russian doctrine, it is based on the triangle of detection, mitigation/interference and destruction. It also incorporates laser and microwave weapons. In this attack, the two UAVs were neutralized in two stages, by the M-LIDS system, mounted on the Oshkosh MRAP, capable of firing missiles, and then by the C-RAM land-based CWIS equipped with a Gatling rotary machine gun and a tracking and firing radar.
This modular, easily moved system is the result of the U.S. Army's experience in overseas operations. For example, the C-RAM was designed to handle rocket shell and mortar fire to protect major U.S. bases in Africa and the Middle East.
In February 2020, the U.S. Army created the Joint Counter-small Unmanned Aircraft Systems Office, an office tasked with planning the counter-small UAV strategy, with strategic UAVs being the domain of air defense. This office was tasked with selecting and validating anti-drone defence equipment, including during the transition, and defining a strategy in this field.
Similar to their Russian counterparts, all U.S. soldiers receive mandatory anti-drone training at Fort Carson in Colorado. The first unit to undergo this training was the 4th Infantry Division in April 2021.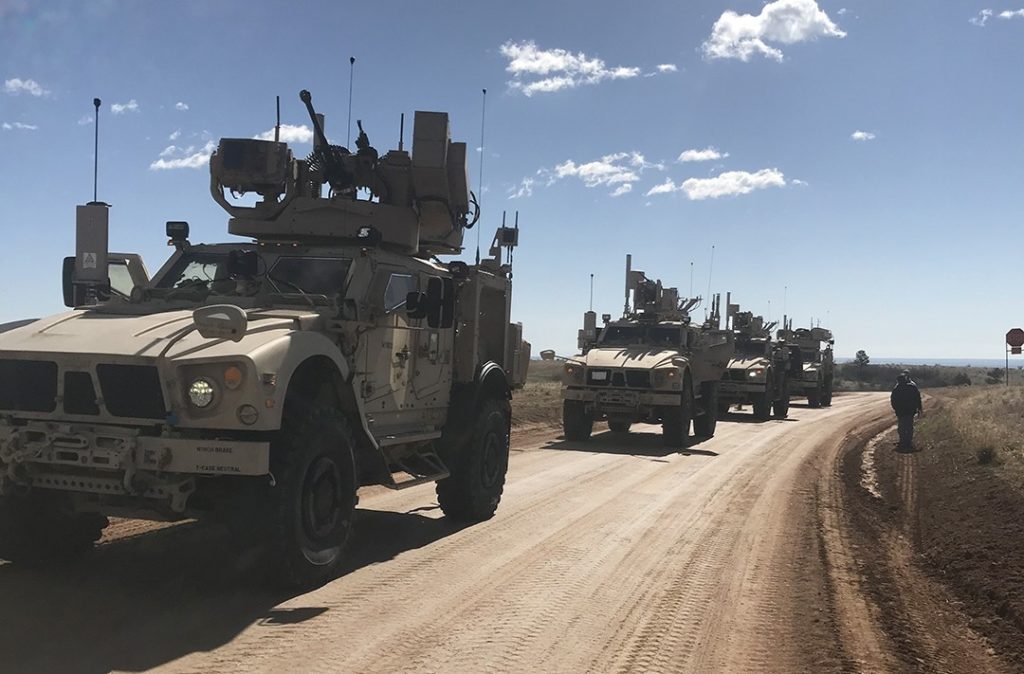 In addition to the missile (Stinger) and bullet solutions offered by the M-LIDS and C-RAM, the U.S. Army relies on an electronic warfare system called MADIS, which has proven itself by shooting down an Iranian drone in 2021 and consists of an electro-optical block and three petals that can emit waves over a very wide frequency spectrum and jam the opposing drone. The benefitof this system is that it can be mounted on a buggy or a light 4×4.
Al Qaeda and other non-state organizations
Al Qaeda has been one of the biggest targets of drone attacks in recent years. Hundreds of bombings have been carried out against this organization in Yemen, Pakistan, Syria, Iraq, Afghanistan, Libya and elsewhere in the world.
In 2013, this organization had published a manual of anti-drone fight with the means on board. Centered around 22 points this manual combines, operational security, active measures and passive measures and represents a model of understanding the operation of attack drones and an attempt to mitigate its effects.
Without detailing them as means of protection, Al Qaeda advocated trying to hack the drones with the Skygrabber software and even to cut their link by bombarding the drone with the Russian Racal equipment that was available on the market. They also advocated the use of bits of mirrors and bits of glass and even simple electrical equipment turned on permanently (microwave ovens, radios, pumps) to generate "noise."

Other simpler measures, such as avoiding grouping outside buildings, taking cover under trees or simply using smoke screens.
A few years later, terrorist groups in the Sahel have taken to covering their vehicles with fabric covers that are frequently wet to reduce its thermal footprint or simply drive as fast as possible in open terrain. After 2018, the overuse of motorcycles by terrorist groups has been to make it more difficult for attack drones to chase and to create confusion.
These experiences prove that anti-drone warfare is first and foremost a state of mind and that it concerns all military personnel and that it is a war requiring an economy of resources combined with a concentration of efforts.
Comments
comments