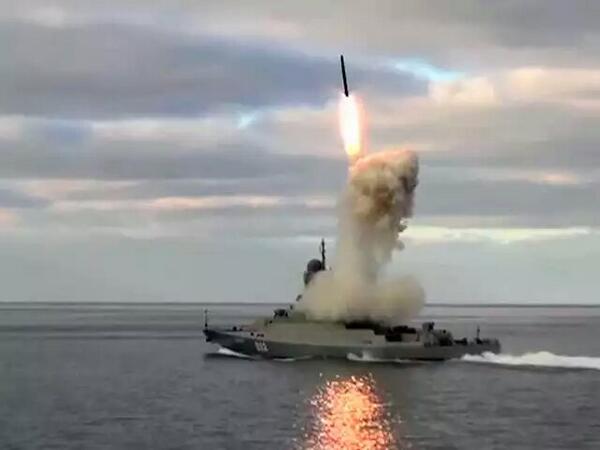 This is suggested by Zelenodolsk's Shpyard annual activity report, which manufactures this type of corvette. "Интерес к поставке кораблей проекта 21632 в различных модификациях проявили Инозаказчики 818, 795." This could translate into interest in 21632 corvettes type expressed by clients 818 and 795 which are Egypt and Turkmenistan. The footnote further states that the interest relates to a modified version of the corvette.
It should be remembered that the Buyan class corvette was the ship made the big headlines in 2015 and 2016.
In October 2015 two small Buyan corvettes, Veliky Ustyug and City of Sviyazhsk had launched Kalibre missiles at targets in Syria, in the Raqqah and Aleppo regions from the Caspian Sea, more than 1,500 km away.
In 2016 two vessels of the same class, Serpukhov and Zelenyy Dol had been assigned to the Mediterranean Sea and targeted many positions in Syria.
Buyan corvettes, which have the appearance of coastal ships, have demonstrated their strategic value by achieving precision strikes over long distances, in addition to  be built with a stealth design that makes them very difficult to detect.
In the case of an Egyptian acquisition, the latter will have the option of equipping it with Klub M or Yakhont missiles in order to comply with the MTCR range limiting regime. This gives Egypt, which has 3000 Km of sea front, an impressive striking capacity in depth of up to 300 km.
Technical Specs:
Type:
Corvette
Displacement:

949 tons full (project 21631)

Length:
Beam:
Height:
           6.57 m (22 ft)
Draft:
Propulsion:
           2 shaft CODAD, 4 x Zvezda M520, 14,584 shp (10,880 kW) and Kolomna Diesel, Pumpjet.
Speed:

26 knots (48 km/h; 30 mph) (21631)

Range:

2,300 nmi (4,300 km; 2,600 mi) at 12 knots (21631)

Endurance:
          10 days
Sensors and
processing systems:

Radar: MR-352 Pozitiv-ME1.2
Fire Control: 5P-10-03E Laska
Sonar: Anapa-ME suite
Navigational Radar: MR-231 Pal
Other: 1 x electro-optical surveillance device

Electronic warfare
& decoys:
2 × PK-10 decoy launchers
Armament:

1 × 100 mm A-190
2 × 30 mm AK-630-M2
2 × 4 UKSK VLS cells with Kalibr-NKsystem or P-800 Onix
2 × 4 Komar 
1 × DP-65 anti-saboteur grenade launcher
2 × 14.5 mm KPV type
3 × 7.62 mm PKM type
Comments
comments