The Algerian authorities have planned a large-scale military parade in the capital to commemorate the 67th anniversary of the start of the Algerian revolution on November 1.
It has been thirty-two years since Algeria has seen its last military parade, though it was established as a tradition just after independence in 1962. The first military parade was organized in Algiers on November 1, 1962, three months after the country's independence, it had impressed at the time despite the fact that the ANP was not yet fully formed. The army had paraded two military ships, armored platoons, artillery and infantry and even the air force which had exhibited at the time Mig-15 fighters, al-Joumhouria training aircrafts and three Mi-4 helicopters, which had been received by the ALN dismantled in Morocco in 1962 and which had managed to join the parade in-extremis on November 1st 1962.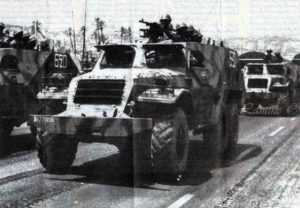 At the time of the military parades of the end of the 80s, the ANP displayed a great deal of equipment from the four arms that constitute it. The last parade took place in 1989 under the presidency of Chadli Bendjedid. This tradition was abandoned at the time for many reasons related to domestic political changes, then to the black decade and also due to the international context: Gulf War and military appeasement with Morocco.
In 2004, on the occasion of the fiftieth anniversary of the Algerian Revolution, a military parade was scheduled to be staged, but was cancelled following the orders of President Bouteflika, again because of internal political problems (tensions between the Presidency and the General Staff in the context of the presidential elections) and Bouteflika would have referred to a will of appeasement with Morocco.
Next November 1st parade promises to be grandiose with air, land and sea shows in Algiers bay. It is said the army will showcase S-300s, Pantsirs and BMPT-72s, as well as will stage an aerial parade with about a hundred aircraft and an air refueling simulation. The parade will take place as usual on the coastline of the of Hussein-Dey at the level of the northern ring road of Algiers.
Comments
comments